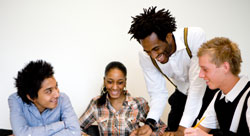 Most of our workshops can be presented in a multi-day, full-day and half-day format. We also offer follow up sessions where your teachers can refresh and fine tune what they've learned. Browse our on-site workshop offerings and let us know which ones interest you.

English & Language Arts Workshops (Grades 7-12)


History & Social Studies Workshops (Grades 7-12)Elementary Workshops (Grades K-8)Across the Curriculum Workshops (Grades K-12)

Workshop Leaders
Our workshops are led by dynamic, award winning teachers and writers. Get to know our presenters.


Workshop Descriptions
Getting Them to Write (Grades 7-12)
Learn strategies to motivate reluctant writers while stimulating advanced students to stretch their abilities to reach a new level. You will practice anxiety-reducing exercises such as un graded journal writing that kids want to do, writing for different audiences (historical, literary & mythological figures as well as those from pop culture), imaginative interviewing, quirky book reactions, creative writing (memoir, flash fiction and poetry), etc.

Teaching Writing for Test Takers (Grades 7-12)
Teachers will learn to create and customize their own picture prompt and persuasive writing topics. This skill-based workshop will also share useful techniques to help students generate multiple ideas for writing essays and other standardized test preparation, revision strategies, points for editing and polishing essays and a pain-free grammar blitz. Well, almost pain-free.

Writing Teachers, Writing Students (Grades 7-12)
This workshop will encourage teachers to become practicing writers for their own professional development so they become better teachers of writing. In addition, it will offer approaches for evaluating student writing, paper management strategies and will conclude with a plan to build a writing friendly school by creating a community of teachers who write.

Evaluating Student Writing (Grades 7-12)
This workshop will present an overview of how to read and respond to students' writing. Topics include creating incrementally structured assignments, alternatives to numerical and letter grades, group editing and peer critiquing, making writing fun and handling the paper load. Teachers will leave with handouts, ideas and enthusiasm for having their students write more and better.

Contemporary African-American Poets (Grades 7-12)
A survey of the black poets who came into prominence after Langston Hughes, including Gwendolyn Brooks, Lucille Clifton, Rita Dove, Robert Hayden, Yusef Komunyakaa and Marilyn Nelson, as well a look at a younger generation including Elizabeth Alexander, Cornelius Eady, Thomas Sayers Ellis, Terence Hayes, Tim Seibles and Tracy Smith.

Writing Strategies for Poor Achieving and Special Needs Students
(Grades 7-12)
This is a workshop for teaching literacy, critical thinking, composition and creative writing to students who have low academic self-esteem, limited vocabulary, emotional trouble, or learning disabilities. Teachers will practice a battery of proven techniques, exercises and models to get these kids excited about writing.


Writing in the Social Studies Classroom (Grades 7-12)
A workshop for social studies teachers on classroom writing strategies designed to: improve the cogency of the subject, increase the interest level of students and lower student anxiety over major writing projects. We will also discuss surprisingly easy techniques for designing plagiarism-proof assignments and streamlining teacher workload–a major concern whenever writing is promoted.

How to Teach About 9/11 and the Events Since (Grades 7-12)
We will explore how to help students begin to understand the historical and moral context of what occurred on September 11, 2001, including relevant events in our own history and that of the Middle East, Central Asia; the essentials of Islam and the particulars of Islamic fundamentalism; the history of Al Queda; the nature and history of terrorism. We will seek to understand the choices made in response to 9/11, including the wars in Afghanistan, Iraq and, most recently in Gaza and Lebanon.

Rx for Improving State Test Scores in LAL (Grades 3-5 & 6-8)
This workshop will present teachers with tools proven to boost Language Arts Literacy scores in the PARCC tests. Participants will learn classroom-tested techniques and tips to teach students to effectively respond to multiple choice and open-ended questions and to construct well-written speculative, expository and persuasive essays. Strategies and ideas on incorporating motivational activities will be shared.

Linking Math and LAL (Grades K-3 & 4-7)
In this interactive workshop, teachers will learn strategies for using children's literature and writing activities as springboards to success in math. Presenters will model math activities based on topics from a variety of popular children's books. They will also share examples of how writing about math improves comprehension. A great collection of high-interest, easy to use handouts is included.

Succeeding With Literature Circles (Grades 2-8)
This hands-on workshop will provide practical strategies to help you incorporate literature circles into your reading and writing program. Several models of literature circles will be presented and handouts will be provided for classroom use.

Six Plus One Writing Traits (Grades 3-8)
Learn valuable strategies to help you develop confident and creative writers. The Six Plus One Writing Traits are flexible and easy to implement, and they work well with existing curriculum and materials. These strategies will also help you to guide and assess writing instruction and prepare students for success in state and standardized testing.

The Differentiated Classroom (Grades K-12)
This interactive workshop will provide teachers with a wealth of practical ideas for implementing differentiated strategies and activities in their classrooms. Participants will be able to reach the wide range of learners they encounter more effectively, from the struggling to the high-achieving. Teachers will leave this exciting workshop with an understanding of the ways to differentiate lessons, armed with ready to use time-saving activities.


Browse our other workshops

Ready to reserve your next inservice?
Call 609-626-3594 to request a quote or click here.

Don't see what you're looking for?
We can design a custom program for your school. Call us.