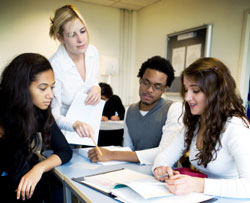 Most of our workshops can be presented in a multi-day, full-day and half-day format. We also offer follow up sessions where your teachers can refresh and fine tune what they've learned. Browse our on-site workshop offerings and let us know which ones interest you.


Workshop Leaders
Our workshops are led by dynamic, award winning teachers and writers. Get to know our presenters.


Workshop Descriptions
Getting Them to Write
Learn strategies to motivate reluctant writers while stimulating advanced students to stretch their abilities to reach a new level. You will practice anxiety-reducing exercises such as un graded journal writing that kids want to do, writing for different audiences (historical, literary & mythological figures as well as those from pop culture), imaginative interviewing, quirky book reactions, creative writing (memoir, flash fiction and poetry), etc.


Teaching Writing for Test Takers
Teachers will learn to create and customize their own picture prompt and persuasive writing topics. This skill-based workshop will also share useful techniques to help students generate multiple ideas for writing essays and other standardized test preparation, revision strategies, points for editing and polishing essays and a pain-free grammar blitz. Well, almost pain-free.


Writing Teachers, Writing Students (Grades K-12)
Cross-listed workshop: English, Elementary & Across the Curriculum
This workshop will encourage teachers to become practicing writers for their own professional development so they become better teachers of writing. In addition, it will offer approaches for evaluating student writing, paper management strategies and will conclude with a plan to build a writing friendly school by creating a community of teachers who write.


Fiction Workshop for Teachers
The best teachers of fiction are those who also write. Stimulating discussion about the art of fiction as well as various writing exercises will encourage you to explore the challenges of moving a story and/or its characters towards the undiscovered country of resolution and revision. With these concepts, you will be able to lead writing and literature students into appreciating fiction from the writer's perspective.


Evaluating Student Writing
This workshop will present an overview of how to read and respond to students' writing. Topics include creating incrementally structured assignments, alternatives to numerical and letter grades, group editing and peer critiquing, making writing fun and handling the paper load. Teachers will leave with handouts, ideas and enthusiasm for having their students write more and better.


Getting Them to Revise
"Writing and rewriting are a constant search for what one is saying." John Updike
This workshop uses writing samples from high school students and insights from well-known writers which will give you the ammunition you need to have your students understand that revision (literally "re-seeing") is essential to good writing. The full day workshop offers more writing opportunities to practice the revision strategies introduced.


Breaking Through the Abstract
Like photo sensitive paper, writing becomes vibrant when illuminated by the radiance of the five senses: sight, sound, smell, touch, taste. Teachers will practice applying concrete language to reveal the mysteries of the intangible world.


Getting Them to Think
Critical and creative thinking are valuable skills that do not always find a place in the standard curriculum. Teachers in this workshop will sample a variety of visual and text based exercises they can use to help students think imaginatively and evaluate information in a systematic and logical manner both in and out of the classroom. Topics will include analyzing media and advertising, interpreting metaphor and figurative language and learning to interpret the world they live in.


Getting Them to Read
The ability to read well is the most important skill we can provide for our students. In addition to the many practical benefits of good reading, it's a passport to almost the entirety of world cultures. But in an increasingly electronic age, good reading skills are difficult to come by. This workshop will provide useful, interesting materials and strategies to encourage students as they develop the reading skills they need and help you motivate them to want those skills.


Teaching the Literary Essay
Too often, this staple assignment in so many English classrooms feels like factory work for all involved. Why are the bulk of student literary essays–even competent ones–so boring and unoriginal? Why do so many young people write in the same stilted, counterfeit voice, faking their interest, when we know they have recognizable voices and real concerns? How can we help them avoid the magnetic pull of the plot summary? How can we get beyond all the contention over grades? This workshop is devoted to rethinking the literary essay in all its facets. Teachers will be shown 10 practical keys for getting students to write about the literature they are reading with more depth, authenticity and enjoyment.


Writing Strategies for Poor Achieving and Special Needs Students
This is a workshop for teaching literacy, critical thinking, composition and creative writing to students who have low academic self-esteem, limited vocabulary, emotional trouble, or learning disabilities. Teachers will practice a battery of proven techniques, exercises and models to get these kids excited about writing.


Creative Writing for Special Needs Students
This is a workshop for teaching creative writing to students who have low academic self-esteem, limited vocabulary, emotional trouble, or learning disabilities such as ADHD. Educators will be shown a battery of proven techniques, exercises and models to get these kids excited about writing. These are not formulas for cookie cutter responses, but rather smart ways for teachers to structure, sequence and modify assignments to foster authentic creativity in special needs students.


Succeeding With Literature Circles
In this hands-on workshop, teachers will learn how to incorporate literature circles into their language arts classrooms and why this strategy motivates and aids students to become more competent life-long readers. Several models of literature circles will be demonstrated.


The Poetry of War
Cross-listed workshop: English & History
The American poet Wallace Stevens wrote, "In the presence of the violent reality of war, consciousness takes the place of the imagination." This workshop will examine war poetry from Homer's Iliad to the present day, with a special eye on changes in the way war affects "consciousness"–personally and nationally. The session is suitable for teachers of literature, creative writing and social studies. In a full-day version we will consider Stevens's idea about the poetry of war as it applies to contemporary American poetry, much of which seems to involve personal trauma. Nearly all writers have a war–an overwhelming subject that is as hard to enter as it is to escape.


Overcoming Writer's Block
This workshop demonstrates four foolproof techniques that empower students at any level to excel as writers. Students will begin writing in "clear, concise, organized language that varies in content and form for different audiences and purposes."


Making Schools Plagiarism-Proof
Cross-listed workshop: English & Across the Curriculum
Can plagiarism be prevented without turning teachers into investigators and prosecutors? Yes. Can an educational community take steps to inoculate itself from the epidemic of plagiarism now sweeping schools? You bet. This is a sobering session on what schools don't want to face about plagiarism, why honor codes have become a joke and what can be done about it. It's also a workshop on resourceful pedagogy, where educators will be shown assignments resistant to academic dishonesty, which lead students toward their best selves.


Teaching Research Through Memoir Writing
Cross-listed workshop: English & History
Research papers sound dreary, but not when the subject is self and family. Here's a way to teach skills such as interviewing, use of media and Internet sources and ways to integrate direct and indirect quotes with grace and accuracy–all while providing assignments that make students care deeply about what they write and how readers respond.


Writing Your Way into History
Cross-listed workshop: English & History
The past becomes real through first-person stories. This workshop will show how to make history come alive through first-person journalism that makes writers and their readers feel as if they were in another time and place.


Reading and Writing Across the Content Areas
Cross-listed workshop: English, Elementary & Across the Curriculum
New Jersey is one of many states that has adopted the National Common Core Curriculum Standards that require literacy be taught in all content areas. This workshop will emphasize activities that address the type of reading and writing skills required in the new standards. During this workshop teachers will have the opportunity to create new literacy lesson plans to engage all levels of students and prepare them for reading and writing on state and standardized tests.


Teaching Tolerance Through Shared Writing
Cross-listed workshop: English & Across the Curriculum
The best way to understand "other" is to hear life stories of those unlike ourselves. This workshop provides strategies for writing and sharing our lives in ways that teach first-rate writing skills, including revision, while promoting tolerance that will strengthen classroom solidarity.


Perspectives on Media
Cross-listed workshop: English & Across the Curriculum
Show your students how media filters information and as a result requires critical evaluation rather than blank acceptance. Approach video, print, Internet and other forms of media using strategies that will help students appreciate bias and understand the machinations of persuasion.


Browse our other workshops

Ready to reserve your next inservice?
Call 609-626-3594 to request a quote or click here.

Don't see what you're looking for?
We can design a custom program for your school. Call us.