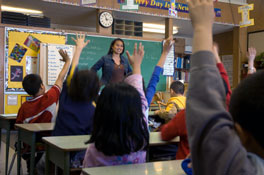 Our on-site professional development workshops are hands-on, motivating and can be offered in a variety of formats. When you reserve an Inservice Solutions workshop, you can feel good about providing your teachers with the tools your students need to excel.
Choose from the topics below or contact us so we can help you create a custom program for your school.


Workshop Descriptions
Succeeding With Literature Circles (Grades 2-8)
In this hands-on workshop, teachers will learn how to incorporate literature circles into their language arts classrooms and why this strategy motivates and aids students to become more competent life-long readers. Several models of literature circles will be demonstrated.

Linking Math and LAL (Grades K-3 & 4-8)
In this interactive workshop, teachers will learn strategies for using children's literature and writing activities as springboards to success in math. The presenter will model math activities based on topics from a variety of popular children's books and will also share examples of how writing about math improves comprehension.

Rx for Improving State Test Scores in LAL (Grades 3-5 & 6-8)
This workshop will present teachers with tools proven to boost Language Arts Literacy scores in the PARCC tests. Participants will learn classroom-tested techniques and tips to teach students to effectively respond to multiple choice and open-ended questions and to construct well-written speculative, expository and persuasive essays. Strategies and ideas on incorporating motivational activities will be shared.

Six Plus One Writing Traits (Grades 3-8)
Teachers will acquire valuable strategies to help them develop confident and creative writers. The Six Plus One Writing Traits are flexible and easy to implement, and they work well with existing curriculum. The materials presented will help teachers guide and assess writing instruction and prepare students for successful results in standardized tests.

Writing Teachers, Writing Students (Grades K-12)
Cross-listed workshop: English, Elementary & Across the Curriculum
This workshop will encourage teachers to become practicing writers for their own professional development so they become better teachers of writing. In addition, it will offer approaches for evaluating student writing, paper management strategies and will conclude with a plan to build a writing friendly school by creating a community of teachers who write.

Reading and Writing Nonfiction (Grades K-3 & 4-8)
The ability to grasp nonfiction information effectively is critical in today's world. Teachers can improve their students' abilities to comprehend and respond to factual information by learning the research-based techniques this workshop shares. Teachers can use these strategies to evaluate and enrich units in a variety of content areas. The presenter will offer a variety of crucial reading and writing techniques which will help students interpret the world around them. These strategies can be used during independent student work or as part of guided reading groups.

Reading and Writing Across the Content Areas (Grades 4-8 & 9-12)
Cross-listed workshop: English, Elementary & Across the Curriculum
New Jersey is one of many states that has adopted the National Common Core Curriculum Standards that require literacy be taught in all content areas. This workshop will emphasize activities that address the type of reading and writing skills required in the new standards. During this workshop teachers will have the opportunity to create new literacy lesson plans to engage all levels of students and prepare them for reading and writing on state and standardized tests.

Mini-Lessons for Reading and Writing (Grades 3-8)
Teachers will learn how to incorporate reading and writing mini-lessons into their language arts instruction. These dynamic strategies will complement and support guided reading and writing, readers' and writers' workshops and literature circles. Topics will include motivation and comprehension techniques; making inferences, drawing conclusions and summarizing; using vivid vocabulary; understanding and applying the four domains of writing; compositional risk-taking and understanding elements of literature.

Strategic Reading (Grades K-3 & 4-8)
This hands-on workshop will present dozens of research-based techniques that will make reading more meaningful and enjoyable for students. It will emphasize the key elements of a comprehensive reading program, including strategies to use before, during and after reading.

Increasing Your Students' Reading Fluency With Strategies That Work
(Grades 1-5)
Half-day workshop
This workshop will provide teachers with ways to increase their students' reading rates through a variety of fluency lessons that will work for small group, whole class instruction or one-to-one instruction. Teachers will practice techniques to improve phrasing, expression and intonation. These methods can be easily integrated into existing classroom instruction, and are effective in building student confidence and understanding. This half-day workshop can be done in conjunction with "Improving Vocabulary Skills" to create a full-day program.

Improving Vocabulary Skills (Grades 1-5)
Half-day workshop
This workshop will demonstrate techniques for expanding students' vocabularies which will improve their ability to read with greater comprehension and to write more fluently. These methods can be used during one-on-one and whole class instruction. This half-day workshop can be done in conjunction with "Increasing Students' Reading Fluency with Strategies That Work" to create a full-day program.

Basic Skills Fun and Games (Grades 1-5)
Teachers will expand their tool kits with these effective and motivating activities. The presenter will share projects, games and learning center ideas that will help teachers to instruct and reinforce math and language arts concepts. Teachers will delight their students when implementing these standards-based enjoyable activities.

Looking for more Elementary professional development?
Check out our Across the Curriculum Workshops.

Browse our other workshops

Meet our Workshop Leaders
Our on-site professional development workshops are led by dynamic, award winning teachers and writers. Get to know our presenters.


Ready to reserve your next inservice?
Call 609-626-3594 to request a quote or click here.

Don't see what you're looking for?
We can design a custom program for your school. Call us.