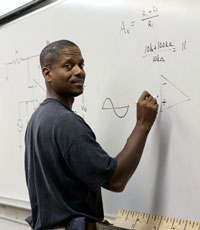 Most of our workshops can be presented in a multi-day, full-day and half-day format. We also offer follow up sessions where your teachers can refresh and fine tune what they've learned. Browse our on-site workshop offerings and let us know which ones interest you.


Workshop Leaders
Our workshops are led by dynamic, award winning teachers and writers. Get to know our presenters.


Workshop Descriptions
Teaching Mathematics for Test Takers
Want strategies and best practices for preparing your students for standardized tests including PARCC and the SAT? This workshop will provide specific ideas to help your students master the mathematics content found on these tests, with a focus on problem representation, reasoning, problem solving, communication, and connections. We'll also discuss general test taking strategies.


Writing in the Mathematics Classroom
In recent years, writing has become much more prevalent in the mathematics classroom. What does the research say about potential advantages, effective techniques and common concerns associated with integrating writing into the mathematics classroom? This workshop will share what we know about writing and mathematics learning, and, through specific examples, how research informs our practice.


Browse our other workshops

Ready to reserve your next inservice?
Call 609-626-3594 to request a quote or click here.

Don't see what you're looking for?
We can design a custom program for your school. Call us.