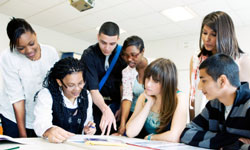 Our on-site professional development workshops are hands-on, motivating and can be offered in a variety of formats. When you reserve an Inservice Solutions workshop, you can feel good about providing your teachers with the tools your students need to excel.
Choose from the topics below or contact us so we can help you create a custom program for your school.


Workshop Descriptions
The Differentiated Classroom (Grades K-12)
This interactive workshop will provide teachers with a wealth of practical ideas for implementing differentiated strategies and activities in their classrooms. Participants will be able to reach the wide range of learners they encounter more effectively, from the struggling to the high-achieving. Teachers will leave this exciting workshop with an understanding of the ways to differentiate lessons, armed with ready to use time-saving activities.


Writing Teachers, Writing Students (Grades K-12)
Cross-listed workshop: English, Elementary & Across the Curriculum
This workshop will encourage teachers to become practicing writers for their own professional development so they become better teachers of writing. In addition, it will offer approaches for evaluating student writing, paper management strategies and will conclude with a plan to build a writing friendly school by creating a community of teachers who write.


Implementing RTI: Academic and Behavioral Interventions (Grades K-12)
This research-based workshop will guide teachers through the Response to Intervention (RTI) process. The presenter will demonstrate interactive exercises, user-friendly tools, practical how-tos, and reproducibles for team building. Example activities and strategies of the three tiers of intervention will be modeled. Participants will learn techniques to monitor individual student progress, plan specific follow-up interventions, and modify existing instruction to support student success.


Making Schools Plagiarism-Proof (Grades 7-12)
Cross-listed workshop: English & Across the Curriculum
Can plagiarism be prevented without turning teachers into investigators and prosecutors? Yes. Can an educational community take steps to inoculate itself from the epidemic of plagiarism now sweeping schools? You bet. This is a sobering session on what schools don't want to face about plagiarism, why honor codes have become a joke and what can be done about it. It's also a workshop on resourceful pedagogy, where educators will be shown assignments resistant to academic dishonesty, which lead students toward their best selves.


Dorks, Nerds and Wimps: Confronting Bullying in the Classroom
(Grades 7-12)
This interactive workshop will demonstrate ways to help students think, discuss and write about the causes and effects of bullying. Teachers will leave with enough materials for at least five lessons to help their students overcome this growing problem destructive to the school community.


Teaching Tolerance Through Shared Writing (Grades 7-12)
Cross-listed workshop: English & Across the Curriculum
The best way to understand "other" is to hear life stories of those unlike ourselves. This workshop provides strategies for writing and sharing our lives in ways that teach first-rate writing skills, including revision, while promoting tolerance that will strengthen classroom solidarity.


Using Teacher Study Groups to Build a Community of Learners
(Grades K-12)
Teacher study groups are gaining in popularity as a way of building a community of learners within schools. By attending this hands-on workshop, teachers will learn a variety of strategies needed to implement this powerful staff development approach. The presenter will demonstrate various ways to encourage discussions of educational materials, help teachers solve educational problems, evaluate classroom techniques and offer new ideas for developing effective leadership skills. Participants will receive a handout booklet of strategies.


Reading and Writing Across the Content Areas (Grades 4-8 & 9-12)
Cross-listed workshop: English, Elementary & Across the Curriculum
New Jersey is one of many states that has adopted the National Common Core Curriculum Standards that require literacy be taught in all content areas. This workshop will emphasize activities that address the type of reading and writing skills required in the new standards. During this workshop teachers will have the opportunity to create new literacy lesson plans to engage all levels of students and prepare them for reading and writing on state and standardized tests.


Perspectives on Media (Grades 7-12)
Cross-listed workshop: English & Across the Curriculum
Show your students how media filters information and as a result requires critical evaluation rather than blank acceptance. Approach video, print, Internet and other forms of media using strategies that will help students appreciate bias and understand the machinations of persuasion.

Browse our other workshops

Meet our Workshop Leaders
Our on-site professional development workshops are led by dynamic, award winning teachers and writers. Get to know our presenters.


Ready to reserve your next inservice?
Call 609-626-3594 to request a quote or click here.

Don't see what you're looking for?
We can design a custom program for your school. Call us.